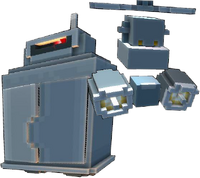 See also: Wall Trophies
Every zone or biome in Trove has its own specific creatures and monsters, which can be more or less a challenge for the player. While most are hostile and will attack any nearby player, there are also a few which stray from this behavior. Killing creatures grants the player experience, a chance for equipment, and a chance for materials such as Glim, which are often used for crafting.
General Behavior
Hostile monsters are affected by the environment in the same ways as the player: they are subject to Environmental Hazards (mainly fall damage and lava), and they can be hurt by some of the same things that harm the player. All monsters are resistant or immune to certain hazards, such as spikes and flame turrets. When some monsters are killed, they drop items which may be useful resources such as Robotic Salvage from Robots or Bleached Bones from Skeletons. Most monsters have an advanced pathfinding system that allows them to traverse complex mazes to get to the player but cannot jump up any higher than or equal to two blocks. They will also naturally avoid holes in the ground unless the player is in one of them.
List of Monsters
The creatures here are classified by the either the biome or situation where they can be found in or their type. For more details, click and view their individual pages.
These only appear during specific seasons.
These are tied to specific events and/or Golden Thread objectives.
These have been removed in past patches and can no longer be encountered naturally.
Unused mobs are found in the source code and/or game files, but are not being used at this time. Can be seen to have their own trophies or tied to certain events.
Hidden monsters are found in the source code and/or game files, but have no known plans for usage.
Hidden spawns are found in the source code and/or game files, but have no known plans for usage.
Ad blocker interference detected!
Wikia is a free-to-use site that makes money from advertising. We have a modified experience for viewers using ad blockers

Wikia is not accessible if you've made further modifications. Remove the custom ad blocker rule(s) and the page will load as expected.