Also see Biome Colors and Biomes
Peaceful Hills
No image is currently available.
You can find sun lairs in these biomes which have 100+ sunlight bulbs. Sunlight Bulbs are used in the Gardening profession to create seeds for many different plants.
Steed Feed, a plant used to craft mounts, is craftable when you reach gardening level 150.
Medieval Highlands
Biomes in this group tend toward a classical fantasy look, with green grass, verdant growth, and scattered remnants of lost civilizations. These woods are mysterious, magical, and home to all sorts of woodland critters - some more dangerous than others, of course!
Decoration items from this type of zone should appear to be made of wood or basic metals, and can be somewhat anachronistic in nature. Examples of appropriate creations could range from a fancy gilded butter churn to a wizard's ritual table to a fully equipped, fiery Dwarven forge.
Weapons from these regions should also fit into fantasy tropes, albeit with quite a bit of flexibility. All manner of mundane and magical (and sometimes silly) weaponry fits within this group.
Undead Hills
Decoration items from this type of biome should be a bit on the macabre side. "Undead" versions of deco from the Wooded Highlands tend to work well here, as well as creepy bone objects or standard horror-movie props.
Weapons from the Undead Hills should be fantasy-themed, but with a darker vibe than the Wooded Highlands.
Desert Frontier
Decoration items from the Desert Frontier should be roughly "Wild West"-themed. Props appropriate in the hands of cowboys or desperados or found in a rickety saloon would all fit well here. Antique wooden clockwork objects of moderate complexity will also find a good home in the Desert Frontier.
Weapons from this biome should look appropriate for a standard Wild West setting, and should represent a higher level of technology than the more fantasy-themed biomes. Wood and basic metals are still the order of the day, but they can be used to construct inventive and charming antique clockwork weapons.
Fae Wilds
Dragonfire Peaks
Permafrost
Decoration items from the Frozen Tundra should fit into one of two main themes: robotic or wintery. Thematic overlap is fine too! Wintery objects could range from ice sculptures to a doghouse-sized igloo to snow-covered versions of objects from other biomes. Robotic decoration is pretty open-ended, but it's important that it has a some flavor or style… think Futurama by way of a voxel editor.
Weapons from this biome should be themed along the same lines as the decorative objects. Icy or frozen versions of traditional weaponry work well here, as well as weapons that would only fit in science-fictiony or futuristic settings.
Neon City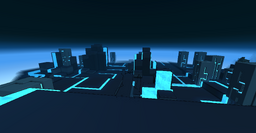 The Neon city is a vast metropolis created by the unknown. It houses dangerous robots and can be a hard challenge for young adventurers. It's harsh environment and powerful loot makes hardened explorers search for hours to find it. Some of the best loot is robotic salvage, used to make a PWN-E mount.  
Candoria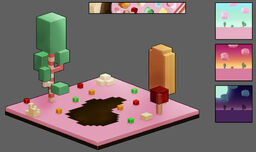 The Candy Biome is a world constructed of vast candyfloss plains, and tall, towering structures made from sweet substances. Chocolate lakes and gummydrop mountains litter the scene. However, watch out; the enemies here may look sweet but their mood is sour! If you do manage to conquer one of the numerous candy dungeons, you may get some sweet weapons, some of which can rival the mightiest of armaments! The Candy Biome is the only location you can gather Wild Cupcakes.
Sea of Tranquility / Sea of Regret
Ad blocker interference detected!
Wikia is a free-to-use site that makes money from advertising. We have a modified experience for viewers using ad blockers

Wikia is not accessible if you've made further modifications. Remove the custom ad blocker rule(s) and the page will load as expected.