Building is a gameplay mechanic that allows players to build things out of resources they've collected from Adventure Worlds.
How to Build
(Note: Check out the Mining page on how to gain resources.)
In order to begin building, you must press the Build/Mining hotkey (default Tab) or by pressing the Inventory hotkey (default B) and switching to the Mining Tab.
Make sure your Inventory is open and drag a block or object onto the Hotkey bar.
Press the key that matches the hotkey your item is linked to.
Click the left mouse button to add blocks, and hold down the right mouse button to destroy blocks/objects (destroying blocks will appear as if you're mining them).
Where to Build
You can construct saved buildings on Cornerstone plots or in the Club World if you have the Architect rank or above. These plots are saved automatically when you complete building. Things you have constructed in Club Worlds will only be modified if other users in the Club who have a high enough rank edit it.
Some areas, such as the main Hub square, are not able to be built upon.
Building in Adventure Worlds or in the area outside the Hub will not be saved. Make sure you know the boundaries of your Cornerstone; adding extensions to your Cornerstone that are outside the 16 by 16 plot will not be saved with the rest of your building. (Note that Cornerstones also have a limit of 50 blocks down and 150 blocks above the initial base line.)
Decorations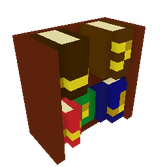 In Club Worlds and Cornerstones, you can add decorations to your buildings by crafting them through the Workbench. Once crafted, these items will appear in your building inventory and can be placed like normal blocks.
The Cube Converter can be used to change Primal Block colors to add more color variety to your buildings.