Not to be confused with the Vengeful Piñata God.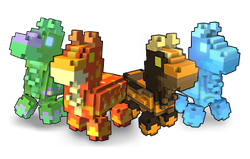 Pinatas!  Loved by all members of Trove, these adorable little creatures are often purchased and then cruelly beaten to death to get at the goods inside.  Many different kinds of Pinatas exist, and most of them are Seasonal.  Each type of Pinata has a very rare chance to drop a mount that looks just like itself.
Ad blocker interference detected!
Wikia is a free-to-use site that makes money from advertising. We have a modified experience for viewers using ad blockers

Wikia is not accessible if you've made further modifications. Remove the custom ad blocker rule(s) and the page will load as expected.