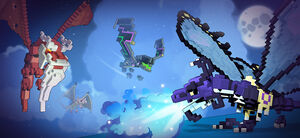 Dragons are a type of mount and/or ally that lets players use dragons instead of regular mounts to travel around. They are useful for land and sky traveling, as well as allies with new and extra abilities unlike most regular allies. Dragons stay visible when flying (except for Fledglings, which are only mounts), but most have 5 less flying speed than wings.
Some dragons have 4 different growth stages. They start off as a Dragonling, a type of ally that has a unique ability to Ignite enemies when damaged. They then go to Fledglings, which are ride-able mounts but with no ability to fly yet. Next up is an Adult Dragon, which has the ability to stay visible when flying. An Ancestral Dragon is the final stage of a dragon, with the ability to shoot fireballs that destroy even dungeon blocks. These only apply to dragons that use Dragon Souls to unlock them.
Legendary Dragons can also be obtained by crafting them at the Dragon Crucible using Dormant Dragon Eggs or Dragon Egg Fragments and varying amounts of Flux, Dragon Coins and other resources, as well as unlocked for free using Golden Dragon Eggs or a Golden Dragon Effigy. Ancestral and Legendary Dragons have the same abilities, and are only different in how they're obtained.
Some Ancestral Dragons can also be crafted directly using eggs or fragments; these cannot be unlocked using Dragon Effigies, but have no previous forms.
Unlocking a Legendary Dragon or craftable Ancestral Dragon will grant a fixed stat bonus to the player, which is permanently available regardless of whether or not the player has the dragon equipped. Ancestral Dragons unlocked through Dragon Souls can still grant a stat boost, but not at the same time as the dragon, requiring a different number of souls.
Controls
Only Adult and Ancestral/Legendary mounts have flight capabilities and Ancestral/Legendary have the ability to shoot explosives.
Adult and Ancestral/Legendary
Holding the Jump key (Space by default) while in mid-air will cause the mounted dragon to glide.

Pressing this key while gliding will end the glide, making the player fall to the ground.
Similarly to regular wings, this cannot glide upwards without the assistance of an Updraft.

Holding the Move Forward key (W by default) will make the player nosedive forward and down.
Holding the Move Backward key (S by default) will stop most horizontal movement, making the player hover in the air and slowly fall to the ground.
Ancestral and Legendary Only
Holding the Mouse 1 (a.k.a. Left Mouse Click) keys (M1 by default, respectively) will cause the mount to show a directional path to shoot the projectile, letting go of the key will shoot. (Ludini, Patron of Playfulness and Za'Hadeen, Heart of the Flame automatically shoot while holding the key).

This can only be done while already gliding.
There are currently 48 different types of dragons (only 38 of which are obtainable).
List
Item
Description
Stats
Obtained
Azulian Dragonling
Unlocked through consumption of an Azulian Dragon Soul, craftable at the Dragon Crucible in the Hub World.
-8% Incomming Damage
Consume 1 Azulian Dragon Soul
+10% Cooldown Reduction
Ignite Damaged Enemies
Neon Dragonling
Unlocked through consumption of 5 Neon Dragon Souls, earned by opening Neon Dragon Caches.
+4% Attack Speed
Consume 5 Neon Dragon Souls
+5 Movement speed
+10% Cooldown Reduction
Ignite Damaged Enemies
Elder Dragonling
Unlocked when a friend you have referred reaches Mastery Rank 20.
+8% Physical Damage
1 Friend Referal
+8% Magic Damage
+10% Cooldown Reduction
Ignite Damaged Enemies
Monarch Dragonling
Very proper and well-behaved, as behooves royalty.
+8% Physical Damage
Mastery 130
+8% Magic Damage
+10% Cooldown Reduction
Ignite Damaged Enemies
Ancient Dragonling
Unlocked through consumption of 5 Ancient Dragon Souls, earned by opening Ancient Dragon Caches.
10 Maximum Energy
Consume 5 Ancient Dragon Souls
+10% Cooldown Reduction
Ignite Damaged Enemies
Moonwing Dragonling
Unlocked through consumption of 5 Moonwing Dragon Souls, earned by opening Moonwing Dragon Caches.
-8% Incoming Damage
Consume 5 Moonwing Dragon Souls
+10% Cooldown Reduction
Ignite Damaged Enemies
Bone Dragonling
Unlocked through consumption of 5 Bone Dragon Souls, earned by opening Bone Dragon Caches.
+10 Critical Damage
Consume 5 Bone Dragon Souls
+10% Cooldown Reduction
Ignite Damaged Enemies
Winter Dragonling
Unlocked through consumption of 5 Winter Dragon Souls, earned by opening Winter Dragon Caches.
+2.0% Critical Hit
Consume 5 Winter Dragon Souls
+10% Cooldown Reduction
Ignite Damaged Enemies
Starlight Dragonling
Unlocked through consumption of 5 Starlight Dragon Souls, earned by opening Starlight Dragon Caches.
+20% Magic Damage
Consume 5 Starlight Dragon Souls
+10% Cooldown Reduction
Ignite Damaged Enemies
Item
Description
Abilities
Obtained
Azorian the Blue
Unlocked through consumption of 30 Azulian Dragon Souls, craftable at the Dragon Crucible in the Hub World.
Flight, shoots fireballs
Consume 30 Azulian Dragon Souls
250 mastery points
Lambent the Neolord
Unlocked through consumption of 90 Neon Dragon Souls, craftable at the Dragon Crucible in the Hub World.
Flight, shoots fireballs
Consume 90 Neon Dragon Souls
250 mastery points
Trimach the Ancient
Unlocked through consumption of 90 Ancient Dragon Souls, craftable at the Dragon Crucible in the Hub World.
Flight, shoots fireballs
Consume 90 Ancient Dragon Souls
250 mastery points
Syluria the Enchanting
Unlocked through consumption of 100 Moonwing Dragon Souls, earned by opening Moonwing Dragon Caches.
Flight, shoots fireballs
Cosume 100 Moonwing Dragon Souls
250 mastery points
Khadavros, the Waiting Oblivion
Unlocked through consumption of 100 Bone Dragon Souls, earned by opening Bone Dragon Caches.
Flight, shoots fireballs
Cosume 100 Bone Dragon Souls
250 mastery points
Galenor, Primarch of Permafrost
Unlocked through consumption of 100 Winter Dragon Souls, earned by opening Winter Dragon Caches.
Flight, shoots fireballs
Cosume 100 Winter Dragon Souls
250 mastery points
Stellaurion, Charter of the Constellations
Unlocked through consumption of 100 Starlight Dragon Souls, earned by opening Starlight Dragon Caches.
Flight, shoots fireballs
Cosume 100 Starlight Dragon Souls
250 mastery points
Valkizer, King of Dragons
Zehira herself appointed him to rule for ten thousand years.
Flight, shoots fireballs
Mastery rank 300
0 mastery points
Aurym, Keeper of Histories
Tales great and small - of love, of loss, of glory, friendship, and betrayal - all are known to Aurym.
Flight, shoots fireballs
Crafted using the Dormant Lorekeeper Dragon Egg at the Dragon Crucible.


Unloked after using a Golden Lorekeeper Dragon Egg.
250 mastery points

Tanbleddyn of the Western Peaks
The tales of his battles against monsters and invaders are sung to this day.
Flight, shoots fireballs
Crafted using the Dormant Valiant Dragon Egg at the Dragon Crucible.
Unlocked after using a Golden Valiant Dragon Egg.
250 mastery points

Fulguras, the Lightning
Let even the mountains quake at his roar, lest they are rent asunder by his wrath.
Flight, shoots fireballs
Crafted using the Dormant Lightning Dragon Egg at the Dragon Crucible.
Unlocked after using a Golden Lightning Dragon Egg.
250 mastery points

Indurion, the Unwavering
Appointed to guard against the Void Beyond, he stared too long into the abyss and was forever changed.
Flight, shoots fireballs
Crafted using the Voidwatcher Dragon Egg Fragments at the Dragon Crucible.
250 mastery points

Olhukoi, the Moonlit Muse
Each night she takes wing, chasing away nightmares, comforting the sleepless, and lavishing inspiration on those burning the midnight oil.
Flight, shoots fireballs
Crafted using the Moonsilver Dragon Egg Fragments at the Dragon Crucible.
250 mastery points
Blocktron, the Guardian Beyond the Sky
Forged in the death-fires of five heroic dragons, Blocktron is rarely seen, but when it appears it is always to battle a great evil
Flight, shoots fireballs
Crafted using Blocktron Dragon Egg Fragments at the Dragon Crucible.
250 mastery points

Rhom-10, Dissent's Roar
Once a trusted servitor of C455-Andra, he was defeated in battle by Yoshimi, whose strength of will inspired him to adopt a new moral code.
Flight, shoots fireballs, Mag Rider
Crafted using Dormant Amperium Dragon Egg Fragments at the Dragon Crucible.
Unlocked after using a Golden Amperium Dragon Egg.
250 mastery points

Hoshizora, Luminary of Hope
A powerful spirit incarnated by the unified wills of Kami and the Resistors, and tasked with protecting Luminopolis alongside Crisopeia.
Flight, shoots fireballs, Mag Rider
Crafted using Dormant Resistor Dragon Egg Fragments at the Dragon Crucible.
Unlocked after using a Golden Resistor Dragon Egg.
250 mastery points

Item
Description
Abilities
Obtained
Disaeon the Immortal
Strikes a dramatic silhouette against a full moon.
Flight, shoots fireballs
Refer 30 friends
0 mastery points
Fortras, the Herald of Battle
Announces the arrival of utmost annihilation with world-engulfing firestorms.
Flight, drops fireballs downwards
Rare loot from Troves of Wonders
250 mastery points
Albairn, Voice of Dawn
With the sunrise comes singing Albairn, and the birds unite in chorus at his passage.
Flight, shoots fireballs, plays music
Rare loot from Troves of Wonders
250 mastery points
Selene the Celestial Storm
Broodmother of the Lunar Dragons.
Flight, shoots fireballs
Crafted using the Dormant Lunar New Year Dragon Egg at the Dragon Crucible.
Unlocked after using a Golden Lunar New Year Dragon Egg.
250 mastery points
Yorinn, the Dusk Shadow
With the twilight comes silent Yorinn, and the birds cease their songs and settle for the night.
Flight, shoots fireballs
Crafted using the Dormant Dusk Dragon Egg at the Dragon Crucible.
Unlocked after using a Golden Dusk Dragon Egg.
250 mastery points
Erel, The Ironbolt
No fortification known fortification has survived an encounter with the Ironbolt.
Flight, shoots fireballs
Crafted using the Dormant Siege Dragon Egg at the Dragon Crucible.
Unlocked after using a Golden Siege Dragon Egg.
250 mastery points
Panatea, the Partifier
She always sees the party through to the end.
Flight, shoots fireballs
Crafted using the Dormant Pinata Dragon Egg at the Dragon Crucible.
Unlocked after using a Golden Pinata Dragon Egg.
250 mastery points
Flakbeard, the Relentless
Still has chunks of cannonball stuck to his beard from the last time someone tried to shoot him down.
Flight, shoots fireballs
Crafted using Pirate Dragon Egg Fragments at the Dragon Crucible.


Unlocked after using a Golden Pirate Dragon Egg.
250 mastery points

Erimatra, Scourge of the Everdark
Forsaking the worlds of Light, she took the battle to the Shadows' home.
Flight, shoots fireballs
Crafted using the Dormant Infineon Dragon Egg at the Dragon Crucible.
Unlocked after using a Golden Infineon Dragon Egg.
250 mastery points
Ludini, Patron of Playfulness
Make the world your sandbox and build something great.
Flight, shoots fireballs
Crafted using Dormant Block Dragon Eggs at the Dragon Crucible.
Unlocked after using a Golden Block Dragon Egg.
250 mastery points
Dracocolatl, the Mellower
Dracocolatl's descent from the Sky Realm to end the Seasons of Salt is a cornerstone of Candorian history.
Flight, shoots fireballs
Crafted using Candorian Dragon Egg Fragments at the Dragon Crucible.


Unlocked after using a Golden Candorian Dragon Egg.
250 mastery points

Drak-O-Lantern
Taking a draconic form, this wily phantom plays pranks on the unsuspecting.
Flight, shoots fireballs
Crafted using the Drak-O-Lantern Dragon Egg at the Dragon Crucible.
250 mastery points
Inora, Flame of Enlightenment
Trusted counselor to Zehira, her wisdom has averted many crises.
Flight, shoots fireballs
Crafted using the Dormant Wisdom Dragon Egg at the Dragon Crucible.
Unlocked after using a Golden Wisdom Dragon Egg.
250 mastery points
Thallasion, Shaper of the Currents
In eternal dance he weaves the ever-changing tapestry of the oceans.
Flight, shoots fireballs
Crafted using Deep Sea Dragon Eggs at the Dragon Crucible.
Unlocked after using a Golden Tidal Dragon Egg.
250 mastery points
Tysorion, Steward of New Beginnings
His duty is to witness the birth of new worlds, wherever they may arise.
Flight, shoots fireballs

Crafted using the Dormant Worldspring Dragon Egg at the Dragon Crucible.
Unlocked after using a Golden Worldspring Dragon Egg.
Unlocked by claiming the Twitch Prime deal.
250 mastery points

Tannenbomber, the Harbinger of Tidings
Spreads joy and prosperity to friend and foe alike.
Flight, shoots fireballs
Crafted using the Dormant Joyous Dragon Egg at the Dragon Crucible.
Unlocked after using a Golden Joyous Dragon Egg.
250 mastery points
Crisopeia, the Crucible of Souls
Her spirit rejected the Assimilation procedure, transforming her into the first Kami of the Neon City in the process.
Flight, shoots fireballs
Crafted using the Kami Dragon Egg Fragments at the Dragon Crucible.


Unloked after using a Golden Dragon Kami Egg.

Baesmuth, the Shaper's Gift
Inspired by Zehyra flying overhead as he worked, the Shaper created another dragon in her image and presented it to the Sun Goddess as a token of his esteem.
Flight, shoots fireballs
Crafted using the Iridescent Dragon Egg Fragments at the Dragon Crucible.
Unlocked after using a Golden Iridescent Dragon Egg.
250 mastery points

Rachnaphon, the Silent Spectator
It is said Rachnaphon's web is connected to all other webs, and every night a hundred thousand secrets are woven into it for safekeeping by her network of spies.
Flight, shoots fireballs
Crafted using the Spinner Dragon Egg Fragments at the Dragon Crucible.
Unlocked after using a Golden Spinner Dragon Egg.
250 mastery points

Petallura, Nature's Beckoning
When spring flowers begin to bloom, Petallura cannot be far away - but beware her presence if you have a pollen allergy.
Flight, shoots fireballs
Crafted using the Floral Dragon Egg Fragments at the Dragon Crucible.
Unlocked after using a Golden Floral Dragon Egg.
250 mastery points

Miraldis, the Primordial Preserver
Since the dawn of time Miraldis has kept creation in balance - observing, influencing, and occasionally taking decisive action.
Flight, shoots fireballs
Crafted using the Preserver Dragon Egg Fragments at the Dragon Crucible.
Unlocked after using a Golden Preserver Dragon Egg.
250 mastery points

Wyntegra, Galenor's Pride
Daughter of Permafrost's Primarch, she has become adept at both stewarding the domain and serving abroad as its most trusted ambassador.
Flight, shoots fireballs
Crafted using the Ice Dragon Egg Fragments at the Dragon Crucible.
Unlocked after using a Golden Ice Dragon Egg.
250 mastery points

Sarsaponia, The Pristine
She's the dragon you want on your side when its time for a clean sweep
Flight, shoots fireballs
Crafted using Bubble Dragon Egg Fragments at the Dragon Crucible.
Unlocked after using a Golden Bubble Dragon Egg.
250 mastery points

Almakhestia, Host of Starfire
There is no record of her existence prior to the Sundering, leading many to wonder about her origins.
Flight, shoots fireballs
Crafted using Starfire Dragon Egg Fragments at the Dragon Crucible.
Unlocked after using a Golden Starfire Dragon Egg.
250 mastery points

Item
Description
Abilities
Obtained
Scintilla, Spark of the Sky
The winds part before her, and in her wake all may follow with ease. All nearby players gain Scintilla's flight speed.
Once unlocked grants 10% of total air gem power.
Flight, shoots fireballs
Nearby players gain its glide speed
Air Gems get +10% to stats
Crafted using the Diamond Dragon Egg at the Dragon Crucible.
105 Flight Speed
250 mastery points
Palashien, Soul of the Sea
Where she commands, the waters rush forth. All attacks also fill in the destroyed area with water.
Once unlocked grants 10% of total water gem power.
Flight, shoots fireballs
Shots fill holes with water
Water Gems get +10% to stats
Crafted using the Diamond Dragon Egg at the Dragon Crucible.

250 mastery points

Za'Hadeen, Heart of the Flame
Keeper of the Worldfire, and able to channel its power at will. Attacks more quickly than other dragons and hold while in the air to continuously shoot.
Once unlocked grants 10% of total fire gem power.
Flight, shoots fireballs rapidly
Fire Gems get +10% to stats
Crafted using the Diamond Dragon Egg at the Dragon Crucible.

250 mastery points
Item
Description
Abilities
Obtained
Urmhalit, the Unforgiven
Banished from Dragonfire Peaks after succumbing to the curse of Balefire, he journeyed to the Everdark seeking absolution or death.
Flight, shoots fireballs
Opt-in to Trion Worlds email subscription.
0 mastery points

| Item | Description | Abilities | Obtained |
| --- | --- | --- | --- |
| Luxion of the Golden Hoard | With a vision for value and a love of everything lavish, Luxion is the dragon to see for anything rare and exotic. | Flight, shoots fireballs | Will be implemented in future patches |
| Shadow Dragon | Strikes a dramatic silhouette against a full moon. | Flight, shoots fireballs | Will be implemented in future patches |
| Phyconidia, Sower of the Sea Forests | Ally to Thallasion, she cultivates and conserves coral reefs, kelp forests, and other underwater ecosystems. | Flight, shoots fireballs | Will be implemented in future patches |
| Cy and Sanguine, the Twin Plagues | No unknown fates, come bloom or blood, are met without a sigh. | Flight, shoots fireballs | Will be implemented in future patches |