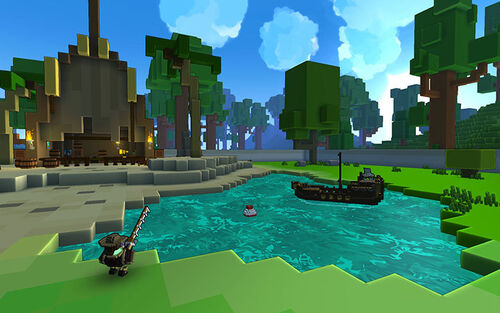 Fishing Poles
are used for fishing. Some poles allow the player to fish on lava and chocolate. Learning each fishing pole gives their respective use. (Example: learning the
Molten Magma Sifter
lets players fish in lava with any other rod as if they "unlock" the ability to do so, except for Lady of the Lake).
The Basic Fishing Pole can be purchased from Saltwater Sam in the Hub World, and near him is a Nautical Assembler that can be used to create additional rods.
NOTE: Players are unable to fish in Regretful Water (A.K.A. Sea of Regret) with any Fishing Pole.
Controls
Pressing "F" (Square on Playstation and X on Xbox) or any equivalent bonded key while aiming at any liquid block will allow Players to cast their Fishing Pole as well as reeling in.
Pressing and holding

"F" or any equivalent bound key will show the path which the lure would follow.

Unless otherwise stated, all fishing poles are worth 20 mastery points each.
Ad blocker interference detected!
Wikia is a free-to-use site that makes money from advertising. We have a modified experience for viewers using ad blockers

Wikia is not accessible if you've made further modifications. Remove the custom ad blocker rule(s) and the page will load as expected.