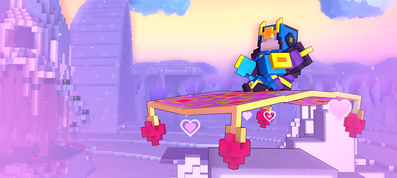 Hellbugs in Love is Trove's Valentine event that will be held during the week of Valentines Day as an annual event. During this Holiday Hellbug Invaders that will give an exclusing holiday adventure lootbox called Skittering Heart Boxes. Skittering Heart Boxes will rarely contain the Bashful Lovebug mount.
This even also has 10 Golden Thread exclusive quests that give the player rewards for completing along with the exclusive Snug Lovebug Rug Other Valentine costumes such as the Heart Eater Tomb Raiser and Rosy Ravisher Chloromancer will be craftable at the Chaos Core Crafter.
Valentine themed mounts and costumes that are purchasable from the store will be reduced in price by 66%, the folowing items will have a decreased price during the event:
The event also features a cross promotional event with another Trion Worlds game called Defiance. Log into Defiance and take down 50 Monarch Hellbugs from the Colony Courtship Arkfall events to unlock the Red Skulking Skitterling mount. For more information on how to complete the event, read the "Unlocking the Skulking Skitterling from the Defiance Promo" Guide, provided by Trovesaurus.