This is the main page on the Neon Dragon Ascension line, not to be confused with the mount Neon Dragon or other mounts/allies related to the Neon Dragon line.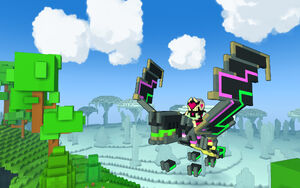 The
Neon Dragon Ascension
is a batch of futuristic
Dragons
introduced in the
Neon Dragon Edition
. This breed of dragon has a
Neon City
theme in "Tron"-like lines and futuristic shapes. Consuming
Neon Dragon Souls
will unlock the dragon themes styles, the
Neon Dragonling
ally
,
Neon Fledgling
mount
, the
Neon Dragonlord Arsenal
, the flyable
Neon Dragon
mount
,
Lambent the Neolord
, and the Spirit of Lambent
Permanent Stat Boost
. Lambent is the final form of the dragon line which will require players to consume 90 Neon Dragon Souls. (Can be crafted from the
Dragon Crucible
in spawn).
Forms
The Neon Dragon line has four forms that can be unlocked by consuming Neon Dragon Souls, which can be crafted at the Dragon Crucible. Using more souls will upgrade the Neon Dragon into its next form after enough have been consumed.
Soul Consumption (Badges)
All souls consumed can be seen through the player's badges. For every certain amount of souls consumed, players are rewarded with items and mastery points.
Dragons

Azulian |

Neon |

Ancient |

Moonwing |

Bone |

Winter

Starlight

Elder |

Monarch
Fortras, the Herald of Battle |

Albairn, Voice of Dawn

Selene the Celestial Storm |

Erel, The Ironbolt

Yorinn, the Dusk Shadow |

Panatea, the Partifier

Erimatra, Scourge of the Everdark |

Ludini, Patron of Playfulness

Dracocolatl, the Mellower |

Drak-O-Lantern

Thallasion, Shaper of the Currents |
Tysorion, Steward of New Beginnings

Tannenbomber, the Harbinger of Tidings |

Flakbeard, the Relentless
Primordial Dragons

Scintilla, Spark of the Sky |

Palashien, Soul of the Sea

Za'Hadeen, Heart of the Flame
In Progress

Petallura, Nature's Beckoning |

Indurion, the Unwavering

Rachnaphon, the Silent Spectator |

Baesmuth, the Shaper's Gift

Miraldis, the Primordial Preserver |

Fulguras, the Lightning

Shadow Dragon
Ready for Game

Crisopeia, the Crucible of Souls |

Aurim, Keeper of Histories
Hidden

Bigneck |
Chaos |

Cupcake |

Night |

Snowcone

Stubs
Ad blocker interference detected!
Wikia is a free-to-use site that makes money from advertising. We have a modified experience for viewers using ad blockers

Wikia is not accessible if you've made further modifications. Remove the custom ad blocker rule(s) and the page will load as expected.