"
Crafting Material. Can be gained through Gardening.
"
 

— Item Tooltip
Pumpkins are used as a crafting material at the Shadowy Station. They can drop from completed Pumpkin Lairs during 2014's Shadow's Eve event, or can be grown through Gardening during the Autumn season. In 2015's Shadow's Eve, pumpkins dropped from Shadow's Eve Adventure Chests.
2015
Pumpkin lairs are back, maybe not the same, but they are back in peaceful hills biome just like sunlight bulb lairs.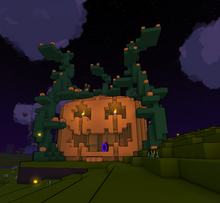 Crafting
Used to Craft
Ad blocker interference detected!
Wikia is a free-to-use site that makes money from advertising. We have a modified experience for viewers using ad blockers

Wikia is not accessible if you've made further modifications. Remove the custom ad blocker rule(s) and the page will load as expected.