Saltwater Sam is an NPC Vendor that can be found in the Hub World. This merchant trades Starter Boats, Sails, and fishing equipment for Glim.
He can be found North-West of the spawn location in the Hub.
Items Sold
Trivia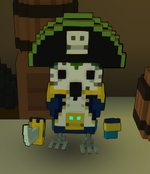 When fishing was first introduced, Saltwater Sam and the Treasure Isles Trader both previously looked like a Pirate Captain (as shown to the left) to match with their counterpart, the Shadowy Treasure Isles Trader. It was later changed to a fisherman merchant.
Ad blocker interference detected!
Wikia is a free-to-use site that makes money from advertising. We have a modified experience for viewers using ad blockers

Wikia is not accessible if you've made further modifications. Remove the custom ad blocker rule(s) and the page will load as expected.