"
Deals in all matter of shadowy goods.
"
 

— Item Info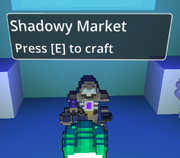 The Shadow Market (a.k.a. Shadowy Market in-game) is a store found in every Shadow Arena, after the boss fight and before the staging area. It can be used to buy certain items like mounts and other useful things.
For items crafted using Lunar Souls, they are account locked therefore they are unable to be bought, sold, or traded.
Obtaining Resources
The Shadow Market uses 4 different materials to obtain any of the items in the market. The Shadow Shards are obtained after completing the shadow arenas which can be used to obtain Shadow Caches, which in turn can rarely drop a Hearts of Darkness to obtain most of the items that are available in the shop. For more rare items, they use Titan and Lunar Souls which can be obtained weekly from Shadow Titans.
History
The Shaper's Dream used to be crafted here before it was made unavailable in-game as of the December 1st 2015 Snowfest patch (Patch - 12/1/15).
Crafting
Used to Craft

Shadowy Market
Ad blocker interference detected!
Wikia is a free-to-use site that makes money from advertising. We have a modified experience for viewers using ad blockers

Wikia is not accessible if you've made further modifications. Remove the custom ad blocker rule(s) and the page will load as expected.