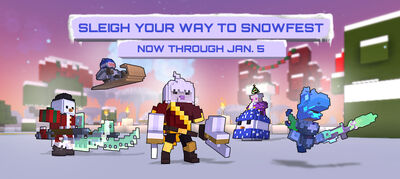 Snowfest is Trove's Winter event that is held from December 1 to January 5 as an annual event. This event features many winter themed items, recipes, and special mounts/magriders. During this holiday event, monsters and chests will drop Snowfest Mystery Boxes just like normal Adventure Boxes. These boxes have a higher chance to drop in higher tier (U1 - U6) worlds and Shadow Towers. Snowfest Mystery Boxes may contain snowballs, special holiday themed items, recipes, or very rarely the Snug Snowman Mount or Laden Sleigh mag rider.
During Snowfest the shop contains a limited edition
Santa Barbarian
costume for the class
Candy Barbarian
. There are also two limited edition mounts available for purchase, the
Rudolph Raptor
and
Reveling Reindeer
.
Winter Pinatas
are also available for the winter season from the shop and have a rare chance to drop a
Winter Pinata Mount
.
Chestnuts will also be craftable in the gardening bench but they can only be grown during the winter season. This crafting material can be used to craft various winter themed recipes and the seasonal Pemblock mount, Pemburr the Caroling Corgi.
Ad blocker interference detected!
Wikia is a free-to-use site that makes money from advertising. We have a modified experience for viewers using ad blockers

Wikia is not accessible if you've made further modifications. Remove the custom ad blocker rule(s) and the page will load as expected.