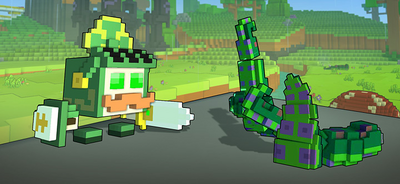 St. Qubeslick's Day is Trove's St. Patrick's event that will be held during the week of St. Patrick's Day as an annual event. During this Holiday, Tentacles will be roaming around the Medieval Highlands biome as well as new structures that house multiple tentacle enemies as well as the Shadowshaping Bench to craft exclusive items. The tentacles will drop an exclusive crafting material called Tentacle Slices which are used at the Shadowshaping Bench will allow players to craft the Tranquil Tentacle ally.
This even also has Golden Thread exclusive quests that give the player rewards for completing along with the exclusive St. Qubeslick ally.
Trivia
The shadow-like lairs that spawn in the Highlands are the old Shadow Arena lairs that contained a Shadow Lock to get into a series of Shadow Arenas in Beta.
Ad blocker interference detected!
Wikia is a free-to-use site that makes money from advertising. We have a modified experience for viewers using ad blockers

Wikia is not accessible if you've made further modifications. Remove the custom ad blocker rule(s) and the page will load as expected.