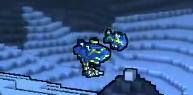 Unknown Cyberdrone Enemy were Alpha enemies found in the Robo Wastelands Biome.
They were restricted to Alpha and so can no longer be found, though similar enemies such as Taseroids and Cyberdrones are still present.
Name unofficial.
Gallery
Ad blocker interference detected!
Wikia is a free-to-use site that makes money from advertising. We have a modified experience for viewers using ad blockers

Wikia is not accessible if you've made further modifications. Remove the custom ad blocker rule(s) and the page will load as expected.