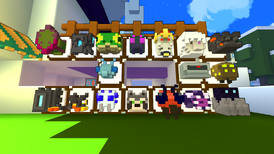 Wall Trophies are placeable decorations that drop very rarely from monsters, Fish, and players (in the Battle Arena) in Trove. A wall trophy appears as a head and/or torso of its corresponding mob/fish mounted on a plaque which can be placed anywhere in a Cornerstone or a Club world. All wall trophies were created and designed by Trove player, Tribe.
When in the Battle Arena (/testarena or not), players have a chance to drop Battle Trophies with the killed player's username, class, and date of death.
Monster Wall Trophies
Most monsters have their own Wall Trophy that they drop very rarely on death.
Monsters spawned by bosses or in Cursed Skulls do not drop trophies; it is unknown whether this is intentional or not.
Normal Monsters
Event/Seasonal Monsters
Unobtainable Trophies
Unreleased Trophies
All Shadow Titan trophies drop as of Patch - 9/29/15.
Despite spawning from Cursed Skulls, Shadow Titan wall trophies do drop from Shadow Titans.
Fish Wall Trophies
Players can obtain wall trophies of all currently obtainable fish of sufficient weight. There are three different trophies (Trophy, Silver Trophy, and Gold Trophy) which are determined based off of the fish's Weight value. The higher the weight, the more value the trophy has. For exact values, see Weight.
Ad blocker interference detected!
Wikia is a free-to-use site that makes money from advertising. We have a modified experience for viewers using ad blockers

Wikia is not accessible if you've made further modifications. Remove the custom ad blocker rule(s) and the page will load as expected.